Yamaha QL5 Digital Mixer Features at a Glance:
Premium internal processors simulate classic studio gear and more
Rupert Neve-designed EQ and dynamics for studio-quality sound
Automixing functionality via the Dan Dugan automatic mixer
Dante network support lets you create complex system designs
Remote control via tablet or computer lets you go deep into your mix
Tons of scene memory, customization options, and more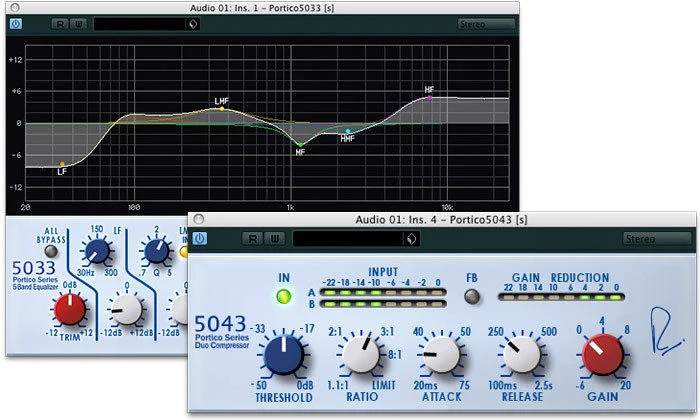 Pure, natural sound and powerful processing
In order to produce great mixes, audio engineers need to have uncolored, natural sound as a starting point. That's why the Yamaha QL5 features top-shelf circuitry and components — to provide you with pristine audio from input to output. And when you're ready to get creative, the QL5's powerful Virtual Circuit Modeling (VCM) technology effectively captures various pieces of analog gear right down to their individual components (including models influenced by the 1176, LA-2A, and EQ-1A), injecting your mix with an abundance of authentic-sounding analog vibe. Of course, the crown jewel of the QL5's analog emulations is its VCM versions of the Rupert Neve Designs Portico 5033 EQ and 5043 compressor, developed in collaboration with Rupert Neve Designs! You also get Yamaha REV-X reverb processors and a graphic EQ for your buses.
Top-shelf circuitry and components
Virtual Circuit Modeling (VCM) analog emulations
Modeled Rupert Neve Designs Portico 5033 EQ and 5043 compressor
Yamaha REV-X reverb, graphic EQ, and more
Revolutionary Dan Dugan automatic mixer
The Yamaha QL5 comes armed with Dan Dugan Sound Design's revolutionary automatic microphone mixing technology. This remarkable processor, which can be loaded into up to 16 channels simultaneously, lets you automatically optimize your microphone gain distribution for speech applications. The result is smooth, natural gain control — the QL5 almost mixes itself! This is a lifesaver for a non-engineer volunteer who runs live sound in a house of worship or at a community event. This is especially useful in non-scripted situations, as it allows you to concentrate on the balance rather than having to chase talkers on the faders.
Dan Dugan Sound Design's automixing technology
Up to 16 channels of Dugan Speech System
A lifesaver for non-engineer sound volunteers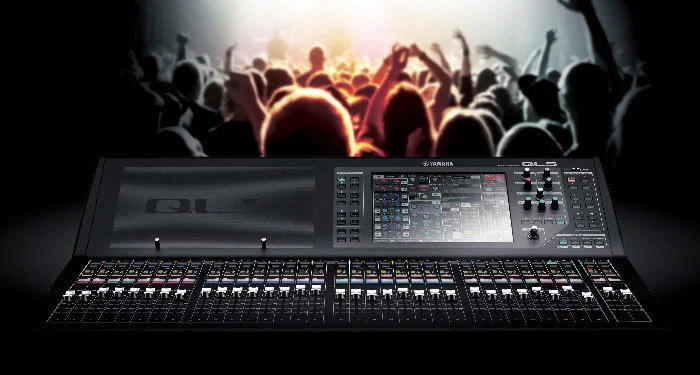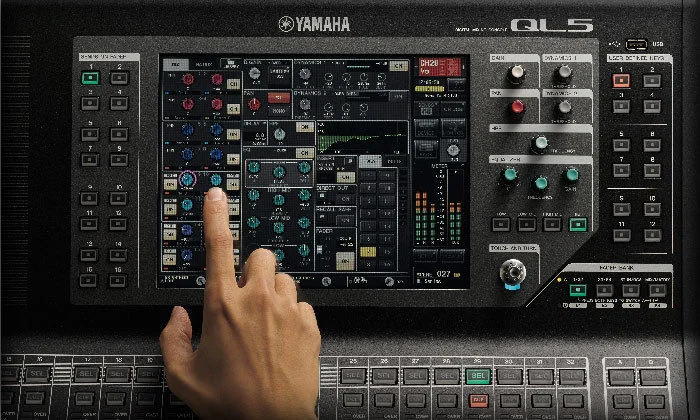 Refined control for smooth operation
When you're running live sound, you've got to move quickly! Well, Yamaha took this into account, making visibility and usability hallmarks of the QL5's design. First of all, the QL5's large, easy-to-navigate touch-panel display makes working in the dark child's play. You'll love the intuitive design of the QL5's Selected Channel interface, which provides you with a comprehensive overview of the parameters available to you for the channel that you're working on. On top of that, you get remarkably comfortable faders and a straightforward Touch-and-Turn knob, which make operating the QL5 a phenomenally smooth, efficient experience. You also get remote control and offline setup capability via your iPad or computer, adding even more refinement to an already state-of-the-art operating environment.
Straightforward Touch and Turn knob
Intuitive Selected Channel interface
Comfortable sculpted faders and knobs
Remote control and offline setup capability
Link it up with built-in Dante networking
Network capability is essential in today's live sound applications, and the Yamaha QL5 has everything you need. By utilizing the widely-implemented Dante networking protocol, the QL5 is able to interface with other Dante-compatible devices to create systems of just about any scale or complexity. Additionally, the QL5's "Port to Port" feature allows its inputs and outputs to be used as elements in a larger system, providing you with unprecedented routing capabilities for front-of-house and monitor consoles. And you'll never have to worry about gain complications disrupting the balance of your mix, as the QL5's Gain Compensation feature ensures that the total gain sent out via the network remains constant, regardless of which device a signal is routed through. In other words, crank up the analog gain on a stage box, and Gain Compensation will automatically turn down the volume on the network so nobody hears the volume change.
Widely implemented Dante networking protocol
Expand your rig with the Port to Port feature
Automatic Gain Compensation between devices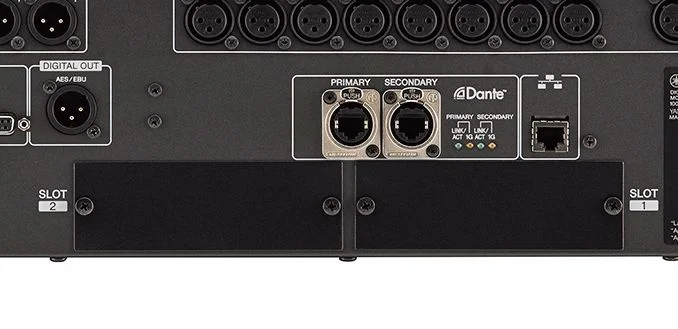 Expand your system with mini-YGDAI slots
The Yamaha QL5 gives you plenty of opportunities for expandability, thanks to its mini-YGDAI expansion slots, which can accept more than 30 types of expansion cards. You can also connect multiple QL5s together via I/O cards such as the MY32-AE, to create powerful systems that offer massive channel counts. The QL5 can also be cascaded to other Yamaha digital consoles such as their CL Series, giving you unprecedented flexibility. On top of that, you can use a separately sold MY8-LAKE expansion card to infuse your QL5 with Lab.gruppen's Lake Processing technology — Mesa EQ, Ideal Graphic EQ, Linear Phase EQ, and other processing features that are capable of fine-tuning your system in a wide variety of environments.
Highly versatile mini-YGDAI expansion slots
Connect multiple QL5s together for massive channel counts
Cascade the QL5 with other Yamaha digital consoles
Compatible with Lab.gruppen's Lake Processing technology
Two-track recording and multitrack options
If you're wanting to record your live shows, the Yamaha QL5 makes it easy. You can either make a 2-track recording straight to a standard USB flash drive (in MP3 format), or you can create a full-blown multitrack recording with Nuendo Live or your DAW choice via Dante. Multitrack recording is great for performing "virtual sound checks" when the band isn't available, and for making professional recordings of your live shows. On top of that, you can play back sound files (in MP3, AAC, or WMA format) from your flash drive, for convenient playback of background music or sound effects without the need for extra playback equipment.
Record two tracks directly to a flash drive
Play back files from a flash drive
Create multitrack recordings with your DAW via Dante
Up to 64 tracks can be recorded simultaneously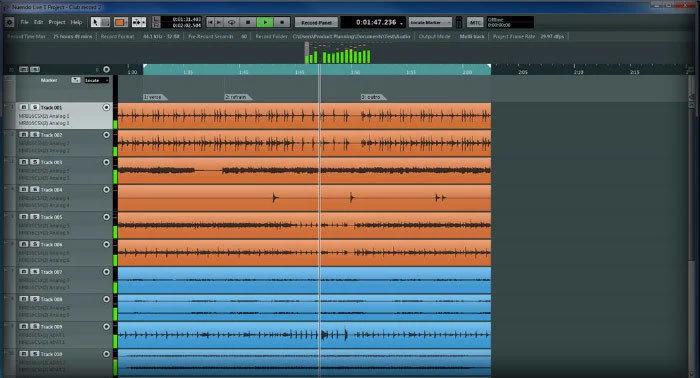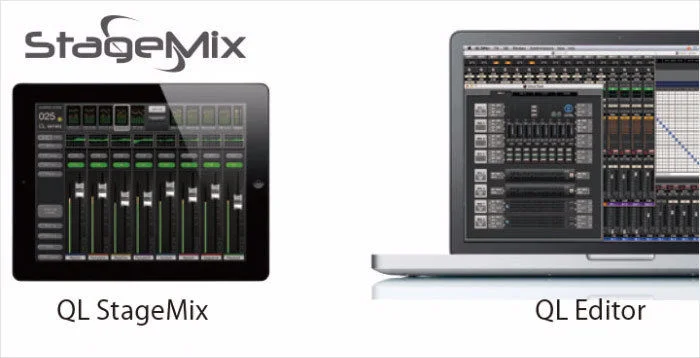 Tight iPad and computer integration
Thanks to Yamaha's state-of-the-art QL StageMix iOS app, it's possible to mix on the QL5 remotely using your iPad. Imagine being able to mix from the audience's or performer's positions — you can ensure that your show sounds great in every corner of the venue! You also get support stays that will support an iPad on the left side of the QL5's panel, sleekly integrating the iPad into the QL interface. You can also use the QL Editor app, which is compatible with both Macs and PCs, to set up the QL5's parameters via your computer, both on- and offline. You can use the QL Editor to conveniently manage scene and patch list data, for example, and keyboard entry capability can be a huge advantage for typing channel names, etc. One thing's for sure: both of these innovative apps are great timesavers!
Two amazing ways to access your settings
QL StageMix allows you to mix remotely with your iPad
QL Editor lets you set your parameters via your computer
Loaded with features and performance.
Optimized for live sound, the QL5 provides you with up to 300 scene memories, up to 1000ms of delay on its inputs and outputs, ample EQ and dynamics processing, 32 DCA groups, eight mute groups, 12 user-defined keys, multiple user key sets, a 5-in/5-out GPI interface, and more. The perfect sound reinforcement solution for small- to medium-scale live sound, corporate speech events, and broadcast, the Yamaha QL5 is a phenomenal 64-channel digital mixer!
Up to 300 scene memories
Up to 1000ms of delay on its inputs and outputs
Ample EQ and dynamics processing
32 DCA groups
8 mute groups
12 user-defined keys
Multiple user key sets
5-in/5-out GPI interface
Onboard help file