---
---
Transparent sound reproduction for mixes you can trust
The LP-8 offers ultra-transparent sound reproduction, enabling you to hear every detail of your mix. This starts with an exceptionally accurate frequency response — there's nothing hyped about this speaker. Its dual-layer, large-diameter voice coil exhibits a crystal-clear sound with negligible distortion — a full 6dB lower than its nearest competitor. At continuous reference-level output, the LP-8 boasts at least 20dB of headroom to allow for transient spikes. What's more, this studio monitor employs larger magnets and voice coils than others in its class, resulting in super-accurate low-end response and impressive low-frequency extension. At Sweetwater, we've found that the LP-8 empowers you to mix with confidence. Once you dial it in on a set of these monitors, it will sound great everywhere.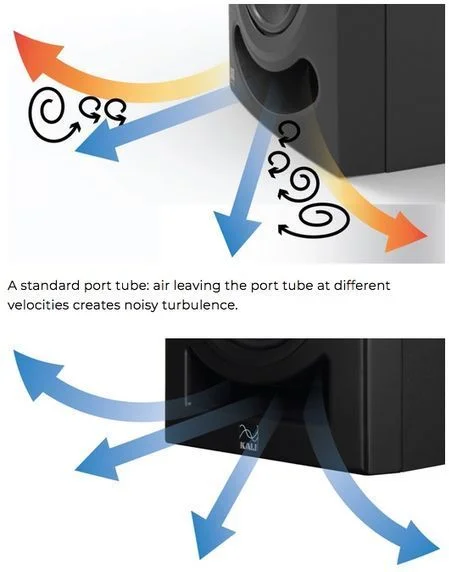 Cutting-edge waveguide design yields rock-solid imaging
When you listen to a speaker, you hear both its direct sound and its reflections. When the reflections are consistent with the direct sound, the speaker sounds better. Its stereo image will sound three-dimensional, enabling you to observe subtle details, such as spatial information and microphone placement. The Kali Audio LP-8's cutting-edge waveguide design minimizes unwanted reflections, thereby preventing the smeared sound stage that's inherent in many low-cost studio monitors. With the LP-8, you'll know the exact location of every instrument in your mix's stereo field. You'll mix faster, and produce better results.
Low-noise port tube exhibits clean, punchy low end
One of the LP-8's most novel features is its low-noise port tube. Many port tubes emit turbulence, as air leaves the tube at different speeds from different points of the opening. This turbulence produces chuffing — a noisy sound that obscures the low-end details of your mix. The LP-8's port tube, on the other hand, ensures that all of the air exits at the same velocity. The end result is clean, punchy bass with zero added noise.
Boundary EQ ensures optimal sound in any environment
A speaker's position in a room drastically affects its frequency response. Even if your room is acoustically treated, your studio monitor's sound will change if you place it near a wall or on a desk. What's more, hard surfaces like walls and the top of your console will skew your monitor's frequency response, degrade its sound, and give you false auditory information. The engineers at Kali Audio understand this, and they baked a solution directly into the LP-8 — its Boundary EQ. Tuned to perfection at The Village Studios in Los Angeles, the LP-8's Boundary EQ supplies you with presets that are tailored to eight common speaker placements. You also get LF/HF trims for fine-tuning the speaker's response. With the LP-8, you'll be able to optimize its response, no matter what environment you're mixing in.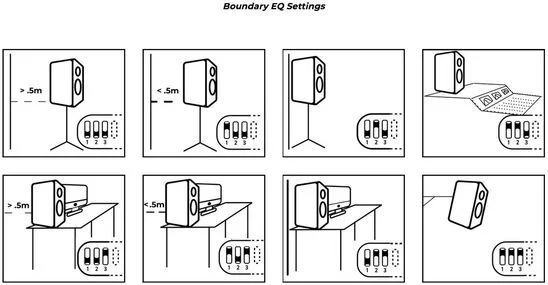 The Pros Have Spoken:
"These compact monitors from new company Kali Audio strike an enticing balance between performance and affordability." — Sound on Sound
"Easily out punches models twice their price or more." — MusicTech
"…beautiful wide soundstage, deep bass and un-harsh highs. I can hear the pulse and dynamics of the music without anything obscuring the view." — Gearslutz
Kali Audio LP-8 Studio Monitor Features:
8" powered studio monitor with 1" soft-dome tweeter

Bi-amped design with integrated Class D power amp

Ruler-flat frequency response — there's nothing hyped about this speaker

Exhibits negligible levels of distortion — a full 6dB lower than its nearest competitor

Boasts 20dB of headroom while playing continuously at 85dB

Large magnets and voice coils produce super-accurate low-end response and impressive low-frequency extension

Cutting-edge waveguide design creates a massive soundstage with spot-on imaging

Low-noise port tube yields clean, punchy bass with zero chuffing

Boundary EQ enables you to tailor the speaker to any environment

LF/HF trims for fine-tuning the speaker's response

Balanced XLR and TRS inputs, and an unbalanced RCA input
---