---
---
Features
Works on any smartphone or tablet that supports Android 4.2 or higher and host mode/USB OTG
Works on Mac or PC via optional

 

USB to Micro-USB cable.
Near-zero latency digital FX processing
Digital audio recording on Android 5.0 and Samsung Professional Audio Devices as well as Mac and PC
32-bit digital signal processor
24-bit converter, 44.1kHz sample rate
High-definition, low-noise preamp
Plug-and-play
iRig UA sounds great right out of the box. Just plug it into your Android device via the included OTG connector and you'll be ready to go. It features a built-in 32-bit digital signal processor, a 24-bit A/D converter, a crystal clear low-noise preamp and an ultra-compact enclosure. With its premium specifications, it's able to provide great sound, extreme portability and unprecedented cross-platform compatibility. And these features all come in handy when iRig UA is plugged into a Samsung Professional Audio compatible device (with Android 5.0). You can use it as a pro-quality digital audio interface with Samsung Soundcamp, a full-fledged DAW music studio app that lets musicians record and compose while on the go.
iRig UA's on-board digital signal processor works in conjunction with AmpliTube UA, a special version of IK's powerful guitar and bass multi-effects processor designed specifically for use with iRig UA — because all of the processing is handled on iRig UA, and not on the Android device, it's able to provide consistent near-zero latency performance (down to 2 ms round-trip total latency) that's independent of the make and model of your connected smartphone or tablet.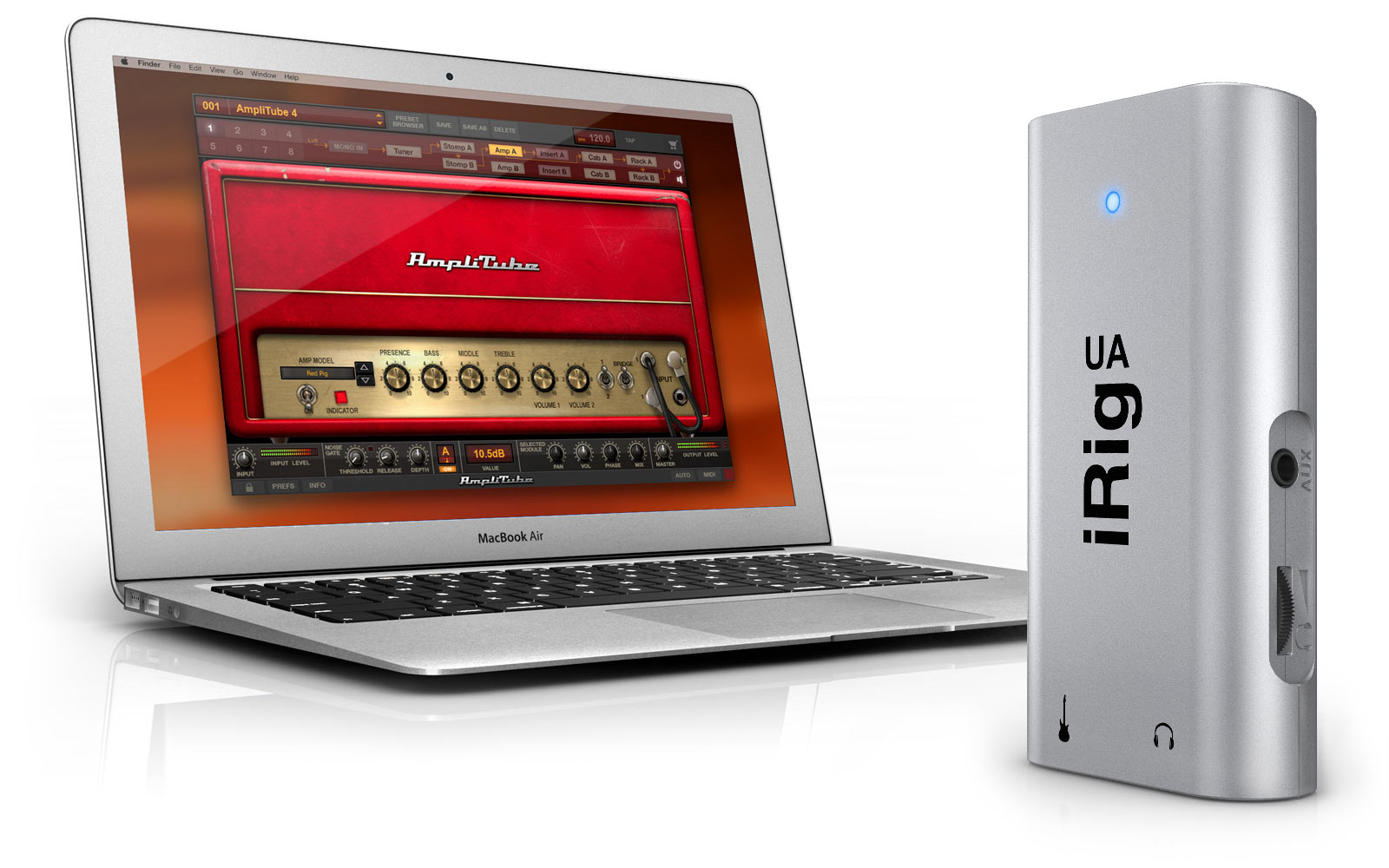 iRig UA also makes for an excellent portable audio interface for your Mac or PC. Just get a USB to Micro-USB cable and you'll be ready to play, process and record with the full power of your favorite music creation software. iRig UA works effortlessly with IK's own AmpliTube Custom Shop, a version of the legendary guitar and bass tone studio that includes a base library of 24 pieces of gear that can be expanded via the whole universe of brand name amps, stompboxes, cabinets and mics available for purchase via Gear Credits in the Custom Shop. And, if you register your iRig UA you'll get the bone-shatteringly brutal AmpliTube Metal collection, 25 Gear Credits and T-RackS Classic for free!
AmpliTube UA has landed
iRig UA comes with AmpliTube UA, a full-featured version of the mobile guitar and bass tone studio that's revolutionized the way musicians make music while on the go.
AmpliTube UA features a generous and expandable library of meticulously crafted virtual versions of some of the most coveted gear in music history. You get 21 pieces of free gear right from the get go: there's 9 high-quality stomp box effects, 5 amplifiers, 5 matching cabinets and 2 microphones.
You'll love using these great sounding pieces of gear. They make it easy and fun to create virtual guitar or bass rigs comprised of an amplifier, 3 stompbox effects (which can be placed before or after the amplifier) and a cabinet with a positionable microphone.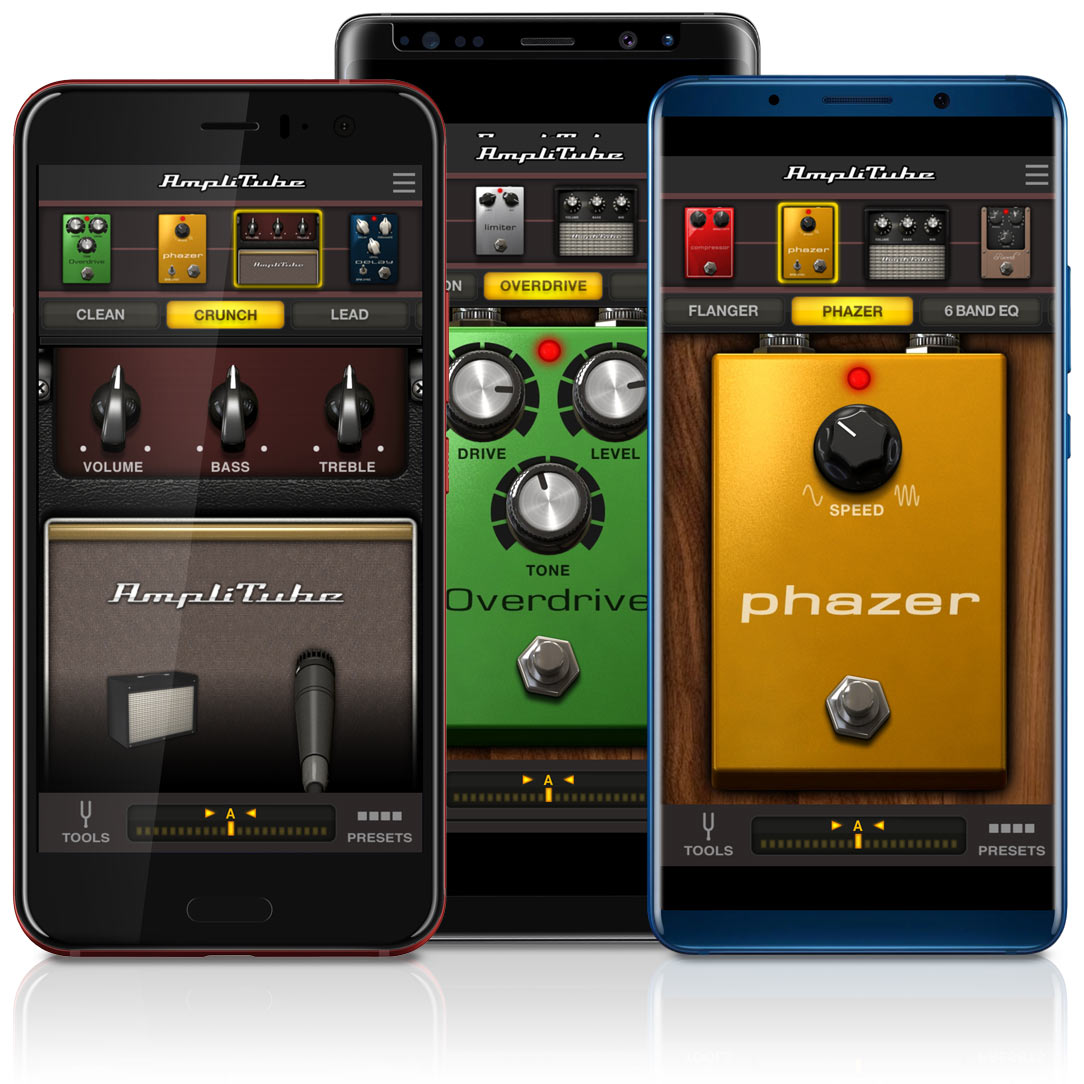 And while this is more than enough for you to get started, this collection can also be expanded thanks to an ever-growing selection of purchasable gear from such respected brands as Fender®, Orange®, Ampeg®, Soldano® and more. There's also exclusive content available from IK's immensely popular AmpliTube Slash and AmpliTube Jimi Hendrix™ collections.
Sound so good it "stomps" other
multi-effects pedals
iRig UA offers truly superior sound quality that is noticably better than typical multi-effects pedals. Want to check out how good it is compared to the rest? We have processed the same guitar takes on iRig UA+AmpliTube UA and three digital modelling stomp-box in the same price range, matching style and tone to provide an unbiased sound test. A/B them for yourself, and you'll immediately hear the difference. Tone for tone, iRig UA and AmpliTube UA clearly sounds superior!

---