---
---
Truly-mobile
To us, "truly mobile" means completely self contained… unhooked from the grid and free to create anytime and anywhere inspiration strikes you on any device.
iRig Pro Duo delivers true mobility in grand fashion. It packs a ton of useful recording features into an extremely compact enclosure that you can take with you anywhere.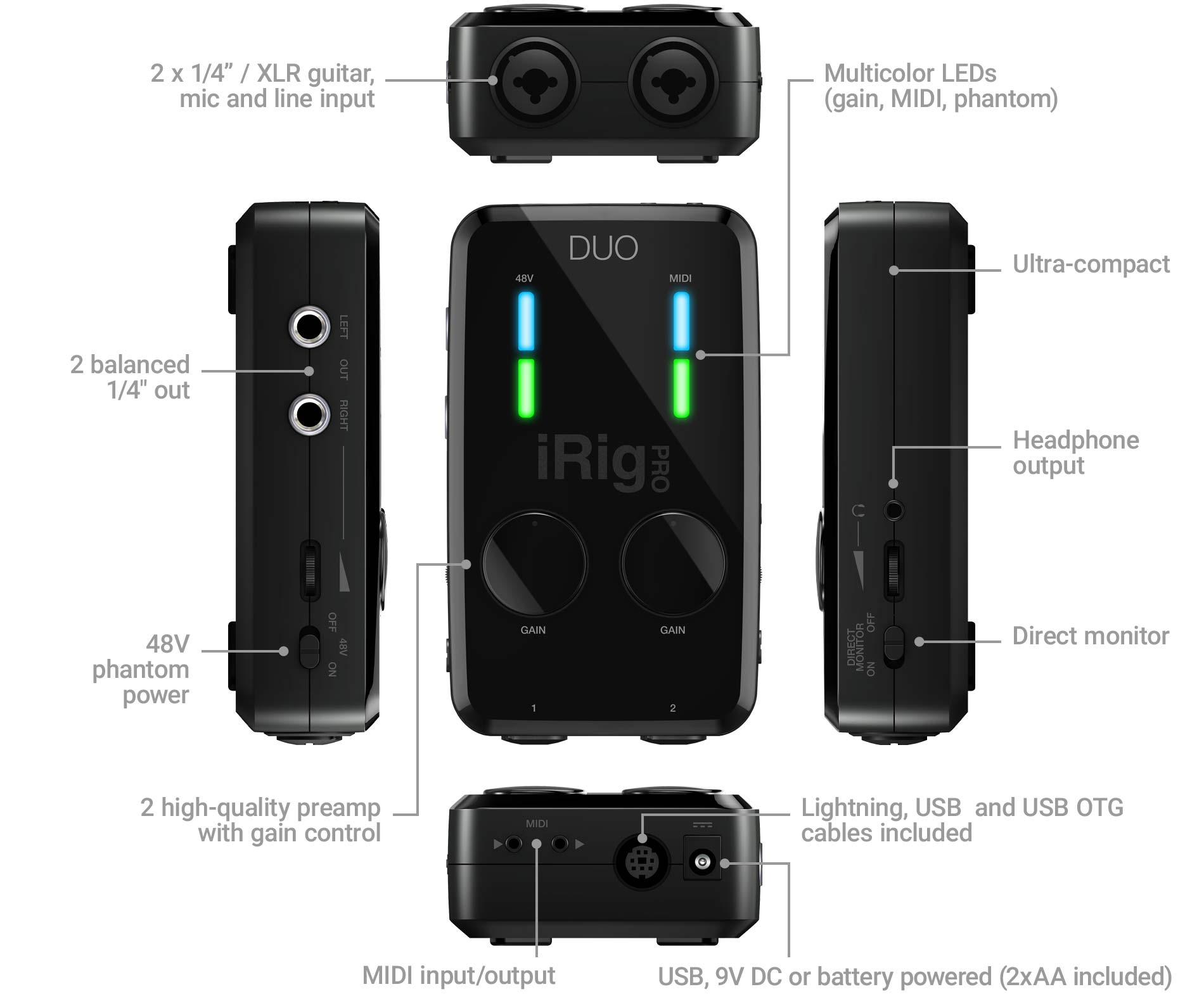 First, it lets you go off the grid and record great audio anywhere thanks to its comprehensive powering options — for true mobility iRig Pro Duo can be powered with two AA batteries and does not draw any power from a connected iPhone or iPad. When using the included USB or Micro USB to OTG cable connected to a laptop or Android device, iRig Pro Duo can be powered by the attached device or onboard batteries. Back in the studio? iRig Pro Duo can be powered with an additional DC power supply for powering extended recording sessions.
Second, it has to sound great and accept every possible instrument and recording situation. iRig Pro Duo delivers high-quality 24-bit audio on the go or in the studio with plug-and-play simplicity. It features 2 channels with XLR/TRS combo audio jacks and phantom power that can accommodate everything from high-end condenser microphones to guitars, basses, keyboards and more. Its crystal-clear ultra-low noise high-headroom preamps ensure that you get professional grade sound everywhere you go.
Lightweight and mobile
iRig Pro Duo is the smallest full-featured dual-channel interface on the market. Its elegantly designed lightweight thermoplastic housing is designed to take the rigors of life on the road, session after session. We've designed it so that it's the perfect size — it fits easily into the palm of you hand and can fit in any backpack, gig bag or even your pocket.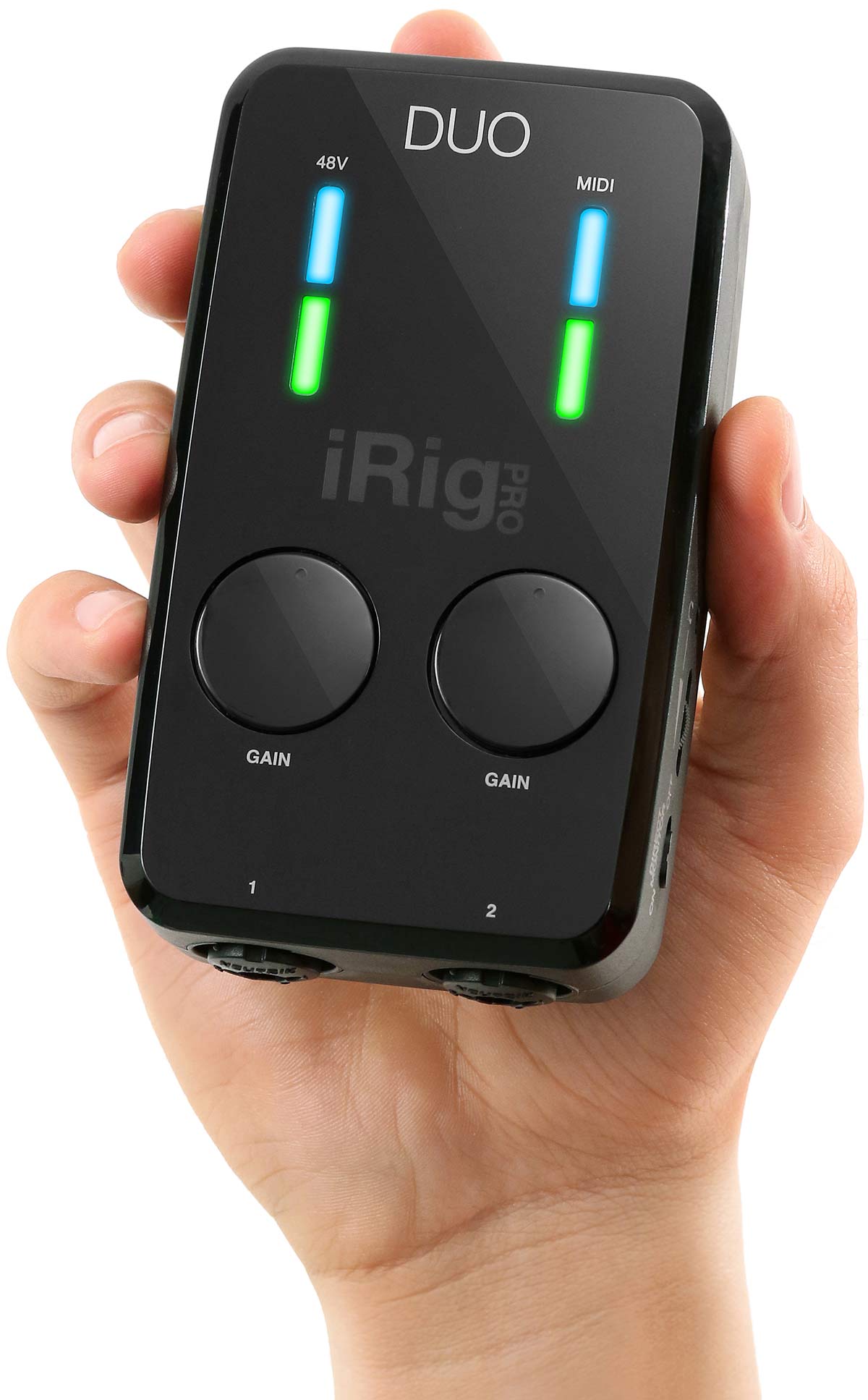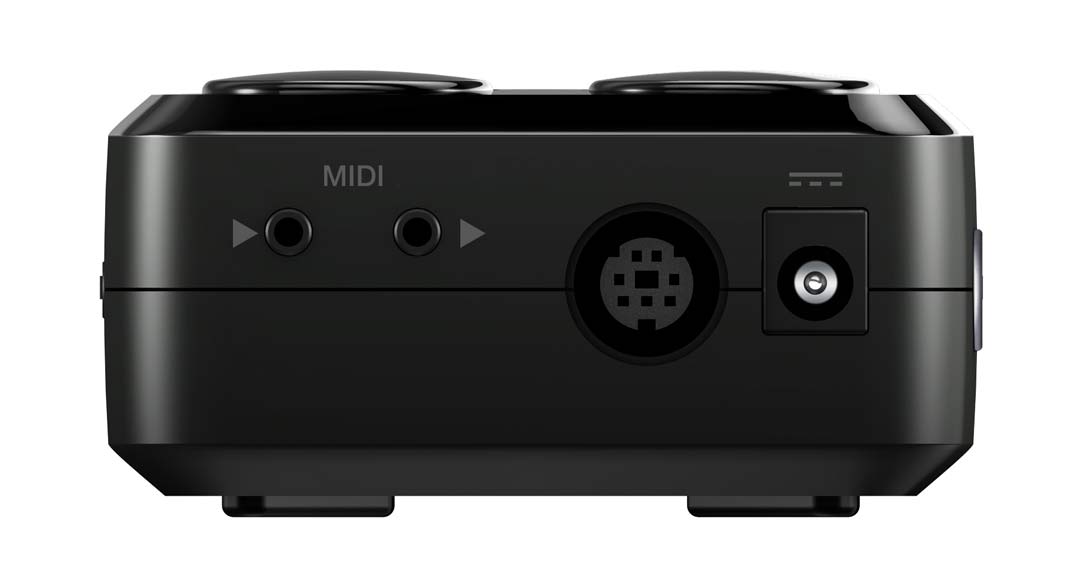 MIDI machine
With iRig Pro Duo, you don't just have a superb portable interface for audio; you can also hook up your favorite MIDI controllers. This is thanks to its included TRS to MIDI-DIN cables and dedicated MIDI in/out jacks, so you can control MIDI-compatible software (or send MIDI data to MIDI-compatible hardware, like synthesizers, drum machines and samplers) with plug and play simplicity. It just works.
Monitoring & output
Monitoring your mixes and input is a breeze. iRig Pro Duo comes with two 1/4" TRS balanced analog audio outputs that let you send a zero-latency signal to your studio monitors or portable speakers. These outputs deliver a stunningly clear audio signal thanks to iRig Pro Duo's exceptional output drivers. The totally floating design of iRig Pro Duo's balanced outputs protect it from potential ground loop issues and buzz when performing onstage with iOS devices or laptops. This superior design makes it an ideal audio interface for when you want to perform live and connect your gear directly to the stage audio system without having to use any special cables or problematic DI Boxes.

There's also a Direct Monitor switch that lets you monitor either the direct incoming dry signals, or the processed signal returning from your device or computer. If you want to use your favorite set of analog headphones to monitor your playing and recording in real time, iRig Pro Duo has you covered. iRig Pro Duo features an integrated 3.5mm headphone output jack with a superior high-quality headphone preamp and level control, so you'll never miss a beat — perfect for use with the iPhone 7.
Features
Truly mobile dual input audio interface for iPhone, iPad, Android, Mac and PC
Simultaneous dual track recording interface for all instruments
Ultra-compact housing for extreme portability
Dual identical XLR/TRS combo input jacks
Dual ultra-low noise studio-quality IK preamps
Individual input gain controls
48V phantom power
Self-powered (2 AA batteries), device powered or

 

DC power adapter

 

(not included)
24-bit AD-DA converters
Dual 1/4" switchable TRS balanced outs
1/8" 3.5mm Headphone out w/ level control
MIDI IN/OUT jacks
Ultra-compact housing fits in the palm of your hand
Includes Lightning, OTG and USB cables

 

(optional 30-pin cable can be used for older iOS devices)
Designed and made in Italy

Exclusive models & free software

iRig Pro Duo comes with a bundle of over $/€450 worth of serious music-making tools. Got an iPhone, iPad or iPod touch? If so, then head over to the app store because you get a whole bundle of free stuff like:

AmpliTube FREE, the ultimate guitar and bass tone studio for iPhone/iPad. You get 4 extra pieces of free gear just for registering your iRig Pro Duo: The Metal W and Metal 150 amps and the Wharmonator and X-Flanger stomp pedals.

VocaLive FREE, the professional vocal processor for practice, performance and recording. It comes with 2 effects and a single-track recorder, and it can be expanded to up to 12 effects and up to 4-tracks (or 8-tracks in the case of VocaLive FREE for iPad).

iRig Recorder FREE, the powerful and easy to use field recording app that lets you capture, edit and share great sounding audio anytime and anywhere.

SampleTank FREE, the ultimate virtual instrument and sound workstation for the mobile musician. It features an expandable collection of instruments and effects and a base library of 68 sounds.

iGrand Piano FREE, a high-end piano instrument with 3 world-class, multi-velocity stereo grand and upright pianos (1 included, 1 after registering iRig Pro Duo and 1 after registering iGrand Piano FREE).
---