Regular price
Sale price
160,000.00
Unit price
per
Sale
Sold out
Comprehensive controls for a productive workflow
With Behringer's X32 digital mixer, you can assign signals to eight DCA (digitally controlled amplifier) groups, with simultaneous group level control via dedicated 100mm motorized faders. The X32 has a talkback section (with built-in mic) that lets you communicate with the artists. The Behringer X32's robust scene management lets you take snapshots of mixes that you can recall later. You can even save them to a USB thumb drive for later recall or use on another X32! What's more, there's a dedicated custom control section with user-definable knobs and buttons, so you can create customized sets of controls, making it simple and intuitive to access frequently used functions as you work.
v3 firmware and software updates bring exciting new features
With v3, the Behringer X32 digital mixer is more powerful than ever. Auto Mix enables automatic gain sharing, providing increased gain to your main speakers, while ducking open mics. This yields a better signal-to-noise ratio without any gating artifacts. Complete X-Touch integration allows direct control of volume, pan, EQ, FX, and more over Ethernet. Set up a full crossover without using a matrix mix. Reverse polarity on your outputs for easy speaker alignment. The Behringer X32-Edit app has been completely redesigned, with a new interface, full screen capabilities, floating windows, configurable fader layers, and more.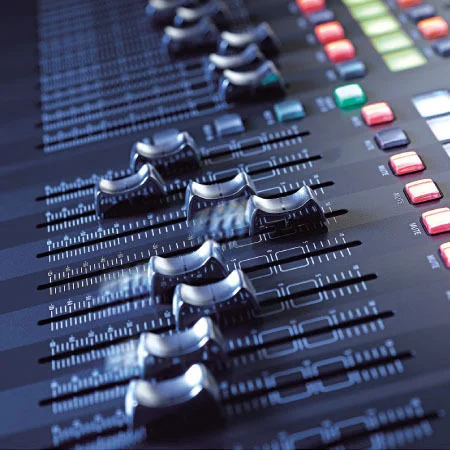 Behringer X32 Digital Mixer Features:
40-input, 25-total-bus digital mixer
16 mix buses, main LCR, 6 matrix buses
Gain-programmable Midas-designed mic preamps deliver enhanced dynamic range and superior common mode rejection ratio (CMRR)
Highly configurable, with up to 40 processing channels and 25 motorized faders
USB flash connection allowing uncompressed recordings, storing show presets, and enabling system updates
6 independent matrix mix buses with inserts, 6-band parametric EQ, and dynamics processing
Powerful scene management for easy handling of complex productions
X-USB recording interface card included
Support for optional Behringer P16-M Personal Monitoring System
48-channel digital snake ready (sold separately) via AES50 ports
v3 Firmware New Features:
Auto Mix yields automatic gain sharing and mic ducking
X-Touch integration allows direct control of parameters over Ethernet
Set up a full crossover without using a matrix mix
Reverse polarity on your outputs for easy speaker alignment
Redesigned X32-Edit app features a new interface, full screen capabilities, floating windows, configurable fader layers, and more
Share
View full details